Is it possible to try Meetic 7 days for free? – Search and find your offer
Meetic regularly launches offers for new users. These are one-off promotions that allow the application to be used free of charge for a specified period. There was recently an offer to use Meetic 7 days for free, but it has now ended. But cheer up, because you can still access the 3-day free offer, which allows you to try out Meetic's premium tools without having to pay. But if you want to find out more about the Premium Service and how much it costs to use Meetic, we'll tell you about that too.
Reasons to try Meetic for free
If we take the number of Meetic users as a reference, we can say that it is the preferred dating application for singles throughout Europe. For purely mathematical reasons, the more profiles a dating application has, the more likely you are to find what you're looking for.
The information you provide in your profile is intended to serve as a guide to find that person you would like to meet. Thanks to Meetic's algorithm, you can have a list of profiles of like-minded people in a matter of seconds. Imagine how long this task would take using only the "normal" tools of your social life.
Another strength of Meetic is its flexibility in adjusting the search to your needs. For example, you may be looking for a serious relationship, or you may be content to meet other single people like you. The first few questions on the Meetic form are the most basic, and will help you eliminate anything that strays from your goal.
Sign up for Meetic and try out a real dating site with the best reputation and success rate in Europe. It's easy if you register through this link and it also gives you free registration.
➜ Start a new adventure: Meetic
What you are looking for, Meetic finds it
Are you looking for a man, or a woman? Are you ready for a relationship? Do you want to have children? The answers to these questions are the first filter. For example, to the question of whether you are ready for a relationship, you can answer the following:
Yes, I would love to
Depending on what comes up
No
I reserve it for me
With regard to the issue of having children, the response options are similar:
I want
I don't want to
I don't know yet
I reserve it for me
After filling in these general questions, the form will ask you other questions that are more detailed. For example, there are questions about your physical appearance: how tall are you, how long do you wear your hair, or if you have a few extra pounds. Some of these questions can be irritating, especially because they are focused on women. But you always have the option of not answering them.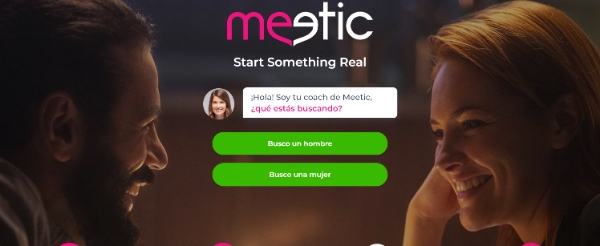 Remember that registration is free, and that once you have filled in the form you can access the "Meetic 3 days free" offer to browse without obligation, and to practice with the tools of the payment option. It's true that "Meetic 7 days free" would sound better than "3 days free", but the free week is no longer available. And in any case, three free days sounds better than "zero free days". Would you like to try it out?
Then take a risk today because you have nothing to lose. Just click on the button, complete the registration and enjoy the free trial that Meetic still offers.
➜ Try Meetic 3-day free trial by clicking here
Goodbye to "Meetic 7 days free"
Unfortunately, the "Meetic 7 days free" offer has run out. But even when no offer is available, there are a few things you can do for free when you first sign up for Meetic:
Register and create your profile
Partial use of the search tools
Send arrows
But also, when you sign up for Meetic offers, you can take advantage of the most widely used premium options: messaging and chat. These functions are no longer free at the end of the offer period. Obviously, the "Meetic 7 days free" offer has already ended, but that doesn't mean you can't come back at any time. For now, both the 7-day free offer and the 3-day free offer are on hold. All that's left for you to do is to take advantage of it. You can also check out the site and see from the reviews that Meetic is indeed a great dating site.
When the time comes for you to try out the site, there are a few tips you can take advantage of on Meetic. Learn them all and get a feel for each of its features. Find out how Meetic works and its best tricks.
Meetic events, free
In addition to being the application with the largest number of users in Europe, Meetic's hallmark is in the events. Best of all, you don't even need to be registered with the application to enjoy the "stay over" events that are organized periodically in your area. Meetic parties usually take place in bars, and are free of charge. However, there are also more sophisticated events, such as excursions, cooking workshops, or cultural visits, which are paid for.
You may even be hesitant to sign up for Meetic for free. Sometimes this can be due to insecurity, lack of information, or laziness. But there's a trick to being able to immerse yourself directly in a singles environment without having to register: convince your friends to register with Meetic, and tell them to invite you to the events. That way you can breathe in the Meetic atmosphere without even giving your name. All it takes is for a Meetic member to invite you. Each registered user can invite up to three friends. But you'll probably end up registering yourself, so that you can invite your friends. And you know it.
If you need more information about the free trial offers that Meetic offers at certain times of the year, here are some more details on how to get a free 3-day trial.
There is no free period, how much does the subscription cost?
Let's assume you've already made the most of the free period. You're comfortable shooting arrows left and right, because your goal is none other than to meet single people. Or on the contrary, you have carefully selected the profiles that interest you, and have gone deeper into the questionnaires to find your ideal partner.
In both cases, you can do two things: continue in the free version, which has important restrictions for contacting your contacts – remember that chat and messaging will be paid for – or access one of the premium options. These are the prices in 2017:
1 month: 36.99
3 months: 18,99 ? per month.
6 months: 12.99 Euro / month.
If you finally decide to register as a premium user, we recommend that you read the conditions section carefully. Specifically, remember that Meetic renews billing by default, unless you order otherwise.
Go straight to the Meetic registration page, complete it in a couple of minutes and in no time you'll be ready to interact and flirt with new people. Give the opportunity for a really different and effective experience.
➜ Accept free registration for 3 days: Meetic