Where to go on the first date: 9 Great Ideas to Surprise Her!
If there's a date that's hard, it's the first one. The main thing we discuss is whether to choose a simple and pleasant activity, such as a coffee, or to go a little further and do something, let's say, unusual. I don't know, if your interest in that person is very great and you want to go for it so that he or she never forgets it, then a coffee is not the best place to go on the first date. Regardless of your case, when it comes to going out for the first time as a couple, the most important thing is that everything goes well, otherwise the chances of having a second date are minimal.
Anyway, the best recommendation for now is that you don't stress out. Stay calm because you've come to the right article to take notes on the best ideas for a first date. There are options here for all tastes, for the more shy and less daring, as well as for what you are looking for to show off and guarantee a first date, god level, unforgettable and the whole thing. What they say about the first date being the most important… well, it's true. So put a lot of effort into it. Which reminds me to ask you, do you already know what to talk about on your first date? If not, don't worry, I've also prepared an article with the best topics of conversation on a first date.
1. Where to go on the first date? To the museum!
Cliche? Well, while many couples go to the museum on their first date, don't forget that it's a very interesting place that gives you the opportunity to get a deeper perspective on your partner's life based on art. Don't visit just one museum, why not go to several? It will depend on your time available. Also, many museums are free, accept donations or are not too expensive.
It is crucial that your first date gives you time to talk a little and museums give a talk for that. Even if everything is going well, you can share a coffee and talk more fluently from there. In Spain there are many museums and they are an attraction worth trying on a first date.
2. Go to a stand-up sho
There is a strong contrast between the museum and the stand-up. Your main advantage with this option is that the environment lends itself more to breaking the ice. There is laughter and good cheer in this place. It will definitely help you to be more relaxed. Hopefully, the show you go to will be fun and there will be a lot of material to talk about when it's over. Another good idea is to get a drink before you arrive and it will help you feel more comfortable.
3. Going to a sporting event
This is a proposal you should be more careful about. First check that your date likes the sport and which one might otherwise refuse the offer or feel uncomfortable during the whole date. Or at least, she will be bored. If you're sure she loves the sport, then it's a safe bet. It will be a great opportunity to discover how passionate she is, how she reacts to the emotions of the game and if you are from the same team, then you will either celebrate or suffer together. Either way, they are good excuses to look at each other, make some contact and all the rest.
4. Take a cooking class
When dating involves a couple getting down to business, it is always positive, why? Because from the first moment you see how you work as a team, as a whole. A cooking class is a shared experience that will later leave good topics for conversation. On the other hand, a cooking class doesn't usually take long, which opens the door to extend it a little further. You should be prepared for this and keep a menu up your sleeve. After the class you could go for a coffee and have a lot to talk about.
The best thing is that the class will leave a new opportunity to attend a second session. If you learned how to prepare some types of tapas in the first session, why not try some Italian food now? We all love food, we have it in common and it offers different ways to play with it. In this case, by taking a cooking class.
5. Picnic, a place to go on the first date
In the spring or summer and generally when the weather allows it, a picnic is a great option if you don't know where to go on the first date. In Spain there are many open spaces, numerous parks that lend themselves well to spending an afternoon sitting down to talk and do other activities. It's not boring if you know how to plan it and show you're an expert at it. For example, choose a very pleasant place, if it offers a special view of the sunset, much better. I'm sure you'll score a few points there.
Although a romantic dinner is a very favorable idea, a picnic also has its advantages. Women love a man who is prepared, who thinks and organizes things well. Additionally, nature and being outdoors gives you peace of mind and serenity. As a suggestion, don't choose a very lonely place because the girl might feel uncomfortable and want to leave soon.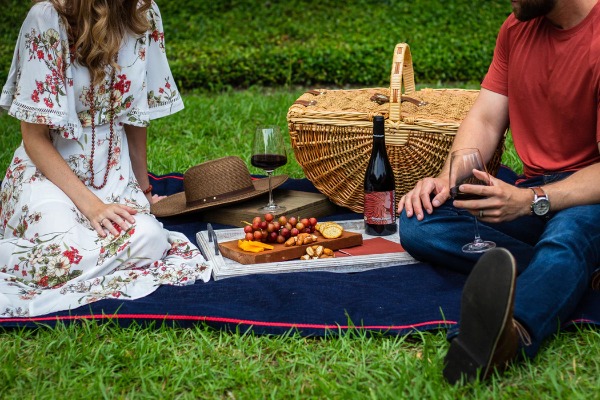 6. Bicycle ride
Let's leave this proposal open for any other physical activity that you both enjoy. On a day with good weather, cycling, walking, jogging or whatever, is an excellent option, especially if you are athletic and lead a life of exercise. It is an activity that you have in common, it gives you plenty to talk about, to exercise and feel good in an environment that is familiar to both of you. On the other hand, you don't miss the opportunity to see the other person in exercise clothes and contemplate the silhouette and what they are made of.
7. Going to a dance class
It's a very original, fun and unforgettable idea. If you don't know where to go on the first date, but you know you both like music, would you dare invite her to a dance class? It's fun, it forces you to be very close to each other and see how you move as a couple. It doesn't matter if you are beginners in the subject or already have some knowledge, the important thing is the experience. The dance proposes the contact and there is no better excuse to know each other closely than dancing. Few activities could provide an approach like this.
8. Amusement park
For strong emotions that awaken all the butterflies in the belly, there is no place like the amusement park. The emotions in the machines, the house of terror, the roller coaster, all are moments to hold hands, suffer a little together and show how brave you are. Besides, it's a fantastic place for those who get a little anxious about their date. Instead of being a little nervous, you'll redirect all that anxiety towards the adrenaline rush of the rides. Finally, here are good times to talk, especially on attractions like the Ferris wheel.
9. Take a walk
It is one of the simplest appointments, but at the same time one of the preferred ones. In fact, according to several investigations, taking a walk is the third most frequent option as a first date, only after going out to dinner or going to a cafe. Another aspect that supports and gives value to this proposal is that many women, especially those over 30 years old, say that taking a walk outdoors is an activity they love.
As long as it is well planned and you know where you are taking it, it is going to be a successful date, or at least, one that will allow you to get to know each other. It's perfect for talking, entertaining, and usually extends, which is positive.
Aspects to take into account
If you have already planned a different place for your first date, take care that these two aspects are met:
Affordable: When we invest a large amount of money in a date, it is logical that we have very high expectations and in case it goes wrong, the disappointment will be tremendous. On the other hand, preserving sanity and keeping expenses within a reasonable range reduces the risk of disappointment. Not only that, but a more casual environment will make your girl feel more comfortable and that benefits you both.
Time to talk: Discard any appointments at the movies, theater, concerts, even very loud restaurants. Of course they are super fun places, the problem is that it is difficult or impossible to talk. At the movies, for example, unless you want to be hated by everyone and be noticed, you can talk a little bit. Remember that the purpose of a first date is for the two of you to get to know each other better, but if you can't even talk, then you'd better think of another place.
Do you want to have a first date, but you can't get anyone? I recommend this article where we select the best sites for flirting in Spain today.